Webuyyourkids are a Sydney based duo of graphic designers, Biddy Maroney and Sonny Day, they create dark posters, illustrations, website and zines from a studio above a Japanese restaurant in Newtown. They began working together in 2006, making screen posters for Popfrenzy records and have now expanded to make artwork for many posters, albums, tshirts, magazines, the internet, TV and even for YouTube. They have worked for MTV, Nylon, and Boundary Sounds and have put together many animations for various musicians and TV commercials.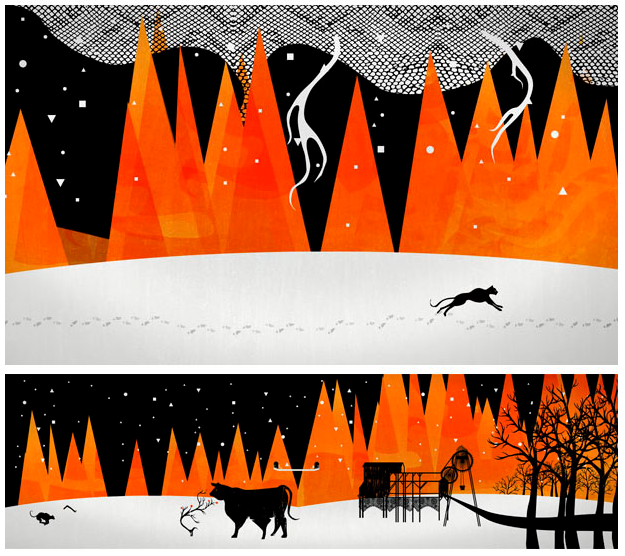 The above image is some grabs from their animation work. The clip below is an animation created from the illustrations from Biddy and Sonny. I think it as a beautiful film clip and is perfectly suited to song, Clemontine By Washington. Webuyyourkids have also worked with Paul Dempsey (Bats) and Belles Will Ring (The Coldest Heart). They are all fantastic clips and I hope you guys have a minute to watch them!
Washington - Clemantine
Belles Will Ring - Coldest Heart
"It' quick! Illustrative. Basically we both have our own style and both do a lot of illustrations but now our styles are kind of merging and starting to look a lot like each others. Most jobs start off with Sonny having the idea and doing a quick drawing. Then Biddy will start to to work it into a poster and build it out, or change it and colour it and add stuff an type."
"We try to listen to all the bands we do posters for just to get a feel, but usually we have an idea ready to go about 4 minutes after we get asked to do the job"
http://www.fantazmagloria.com/work.htm
http://thedesignfiles.net/2009/07/interview-biddy-maroney-of-we-buy-your-kids/
http://www.webuyyourkids.com/site/works/display/124
http://www.youtube.com/watch?v=9M5XXCja5KQ